Models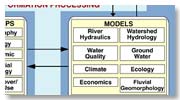 This section features information and links to scientific models and modeling results from studies conducted in the Illinois River Basin. As specific modeling studies are developed, they will be featured in detail in this section.
Featured Modeling Resources:
ILSAM produces statistical estimates of flow quantity in Illinois streams.
View listing of all Models included in the ILRDSS database.
Search by County
Currently, there are no links to Models for Counties.